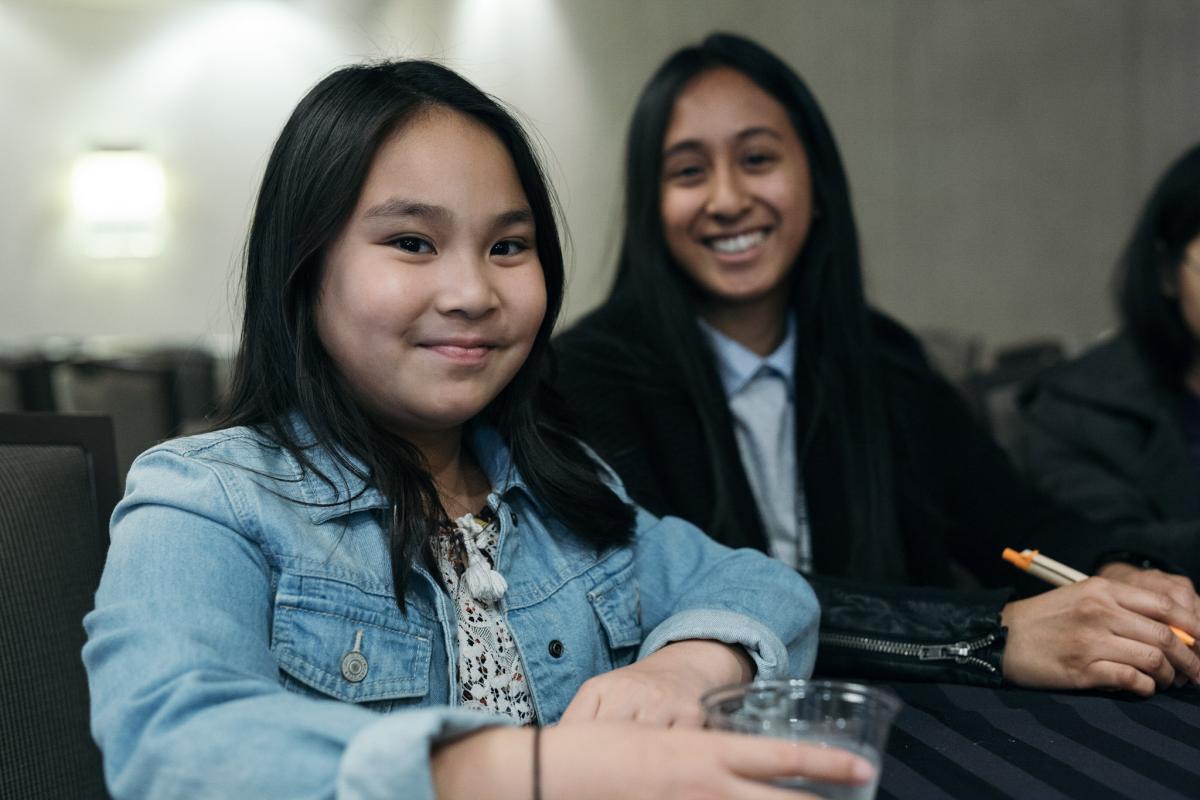 Story by V. Michelle Bernard / Photos by Brian Tagalog and Joksan Cedillo
For many years Vanesha Tuyu (pictured right, on right) couldn't totally understand the sermons and service at her church. Tuyu and many of the other young adults, youth and children don't speak Indonesian like their parents. For some youth born in the United States, the language barrier has had an effect, "and we weren't paying attention," she says.
Stenly Gonie, an elder at New Jersey Conference's Indonesian Pioneer church in Plainfield, took notice and worked with the church board and youth to start an afternoon service in English. The new service, Cornerstone Ministry, follows a similar format to the morning service, but is conducted in English and caters to young adults, says Tuyu.
The added service helped younger, English-speaking members of the church, like Evangeline Gonie (pictured above, on left), 9, connect with God in their native language and in a manner in which they can relate. "[The English service] helped me get to know Jesus better and let me understand more," says Evangeline.
Beyond the communication differences, each generation operates differently. "From one generation to another, it has always been difficult," says Armando Miranda, Jr., associate director of Youth Ministries for the North American Division of Seventh-day Adventists and a presenter at the Rise Up Columbia Union Young Adult Summit, held March 31–April 2 in Arlington, Va. "We need to be careful not to put all that tradition, language and culture before the message of the gospel. We need to present in a way in which our young people can understand God," he adds.
A. Allan Martin, the teaching pastor at the Younger Generation church in Arlington, Texas, who researches young adults and generational issues in the church, adds that there are many societal and cultural differences that come with being a Millennial—the largest generation in the history of the world—and emerging into prominence in the 21st Century. 
"In contrast to the hierarchical organizational structures of previous generations, today's young adults live in a world of flattened organizational structures where leaders are as accessible as a tweet or a text. Millennials [born between 1980 and 2000] interact with world leaders, CEOs and cultural icons instantaneously and interactively. With a new valuing and importance to the voice/opinion of every person, young adults expect the same of the church." 
He continues, "This difference in today's culture shapes their expectations of the Adventist Church organization. More than 'wanting' to be part of the conversations important to the church, these next generations 'expect' to be part of the conversations if indeed young adults are as important to the church as is so often heralded."
Conflict of the Ages
Generational differences, not surprisingly, can be a point of contention between various age groups in the church. Studies commissioned in 2011 by the General Conference found that 62.55 percent of people who leave the church exit during their young adult years.
Pete Maldonado, pastor of Pennsylvania Conference's Hamden Heights church in Temple, says that young adults are busy beginning careers, getting jobs, "looking at life not as something they need to do, but if they want to do it, they'll do it. … There are too many things out there that have their undivided attention. If they want to know something, they'll Google it. If they feel this is what they want to believe in now, they do. If they don't develop relationships within the church, they aren't coming back."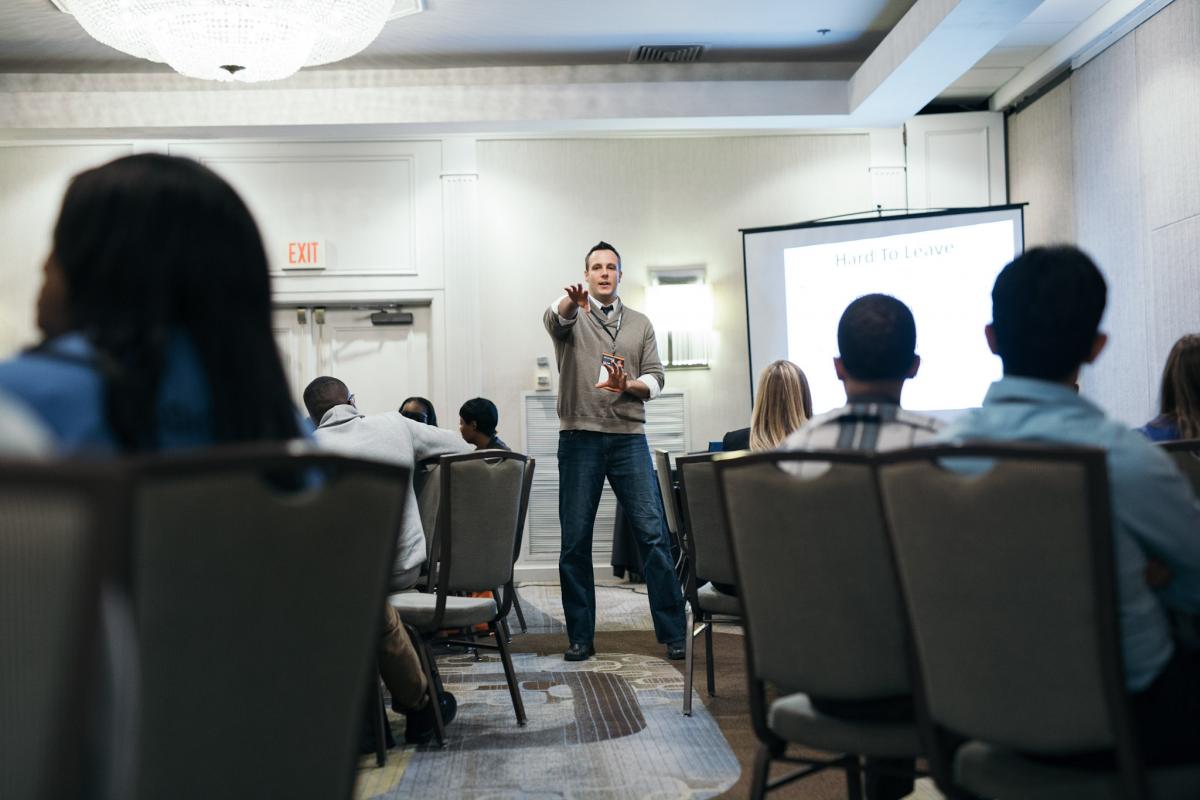 Kris Eckenroth (left), lead pastor of Pennsylvania Conference's Grace Outlet in Reading, recalls talking with a fellow Seventh-day Adventist friend, and in a short time, they named 300 friends who grew up in the church and were no longer attending. "I think there is a lack of relevance [for young adults]," he says, adding that at many churches there is no relationship between what we're putting forward and what younger members are going through. … The other part is that they are finding more meaningful relationships outside than in the church [where many feel there] is no real community."
Praveen Singalla, one of the Rise Up planners, a workshop presenter and a young adult member of Chesapeake Conference's Atholton (Md.) church, agrees that relevance is an issue to young adults. "The [church's] focus has always been around Revelation and Daniel, but never could connect to real world problems of how to stay abreast of evolving issues and maintain one's character amid the crazy world out there."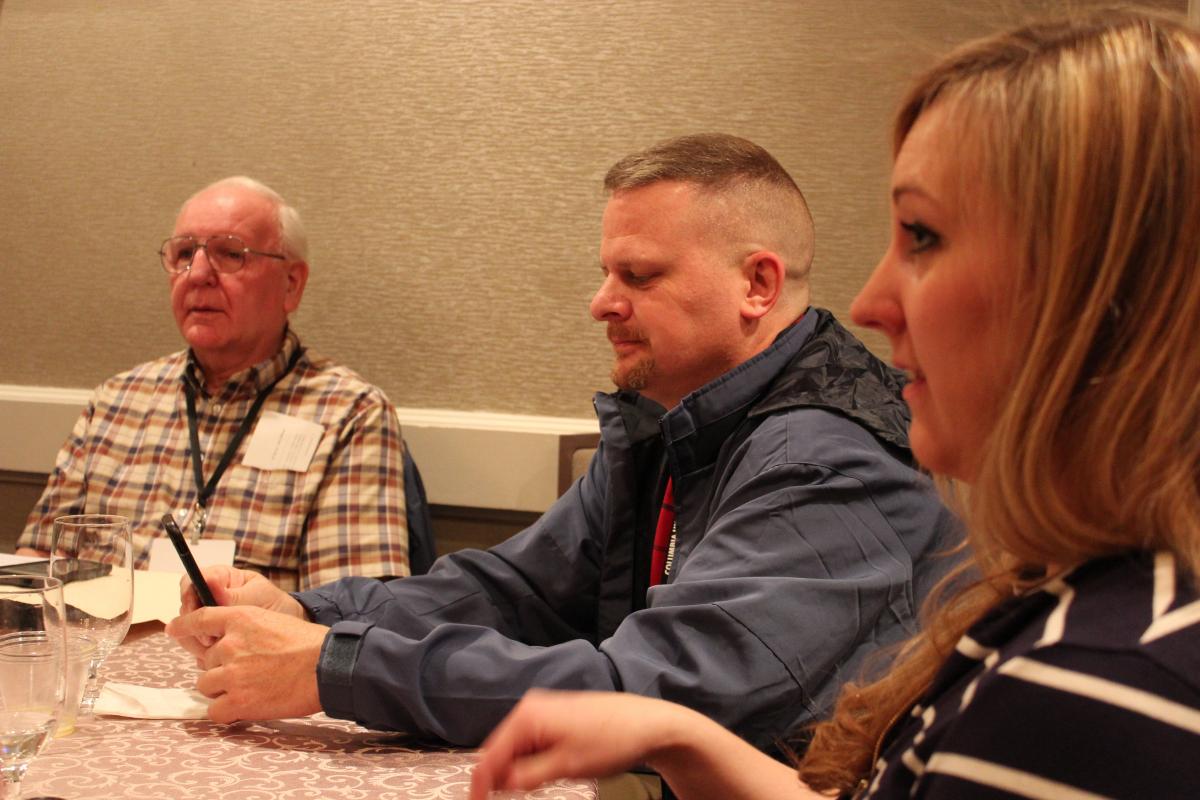 Jessica Manantan (pictured right with Mountain View Conference president Larry Boggess and Mt. View Executive Secretary, Mike Hewitt), a member of Mountain View Conference's Grafton (W.Va.) church, says her congregation is very loving and accepting, and has observed older adults try to be supportive of young adults, but then don't trust the young adults when they want to do something or lead out. She hopes that leaders will grow in trust and "know that young adults aren't going to do crazy stuff and to know that we're grounded and our relationships with God are there. Even if we change things up, it isn't going to be something that's not spiritual."
Similarly frustrated, older members are sometimes confused as to how to reach young adults.
Steve Case (pictured below), Rise Up keynote speaker, has been involved in youth ministry for more than 20 years. He's observed that church leaders want stability and have a hard time investing in and involving young adults because they are more transient than previous generations and want to keep their options open, as opposed to committing to a church or ministry for years, like previous generations. "It is really difficult for a church to plan with young adults who don't know what they're going to be doing [this weekend] or if they will even show up," he adds.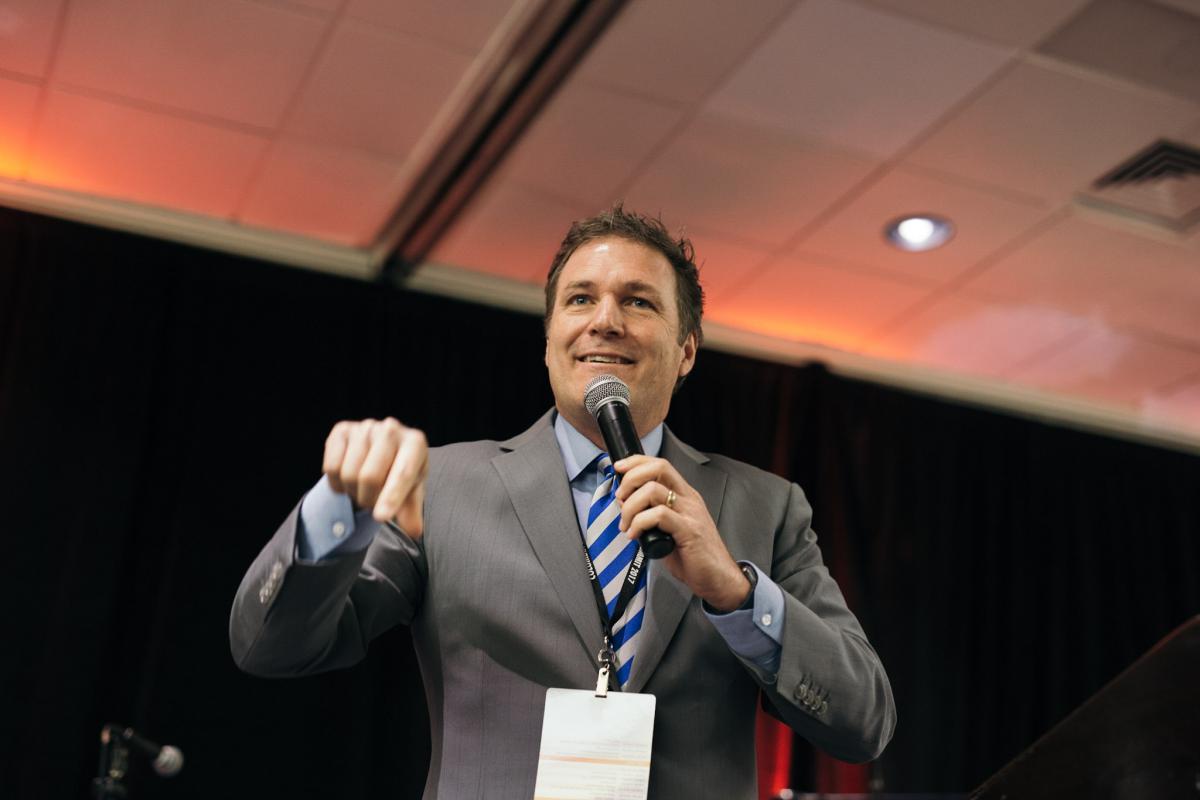 "But just because young adults might not be into [a certain church] doesn't mean they aren't into God," says Case. "Leaders need to think broader than just isolating young adults, [and need to extend] a purposeful, ongoing invitation for them to participate."
He adds, older members need to accept that young adults will be unpredictable. "It is like two sides of the coin: Adults are boring, but you can count on them. You can have security in knowing that. ...
But with young adults, you get unpredictability. The other side to that is their liveliness. ... You have to appreciate the differences. The body of Christ is more than just one age group." Similarly, while young adults like to be together, he says they also need to realize there is a bigger body.
Working Better Together
During the Rise Up Summit—the first of its kind in the union—more than 300 participants from the Columbia Union, including Tuyu, Gonie, Singalla, Manantan, Miranda, Case, Maldonado and other attendees, discussed ways to bridge communication and generation gaps between young adults and older church leadership and empower young adults to get involved.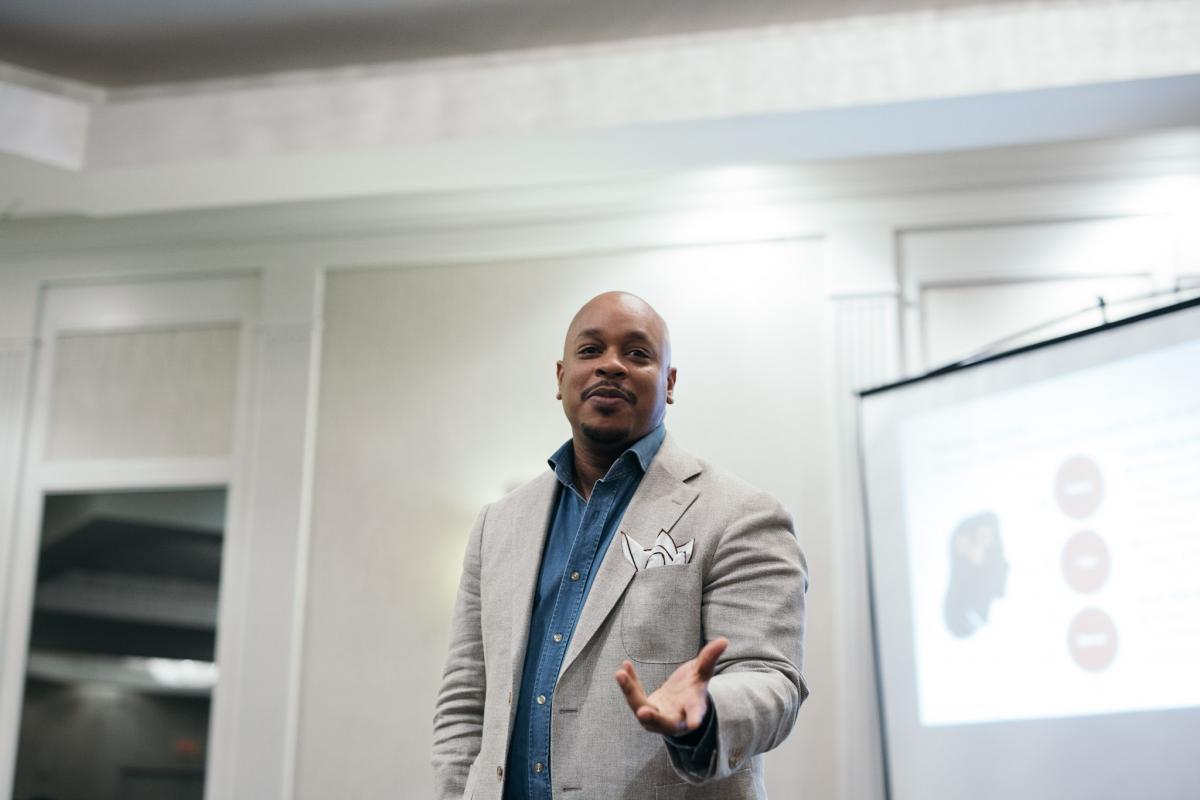 In his seminar, Marquis Johns (pictured left), senior pastor at Allegheny East Conference's North Philadelphia church, shared, "We have isolated Millennials as though they are the problem, and reaching them is a problem that needs to be solved. … We must focus on teaching commonalities and language to help them communicate with one another so that our organization and churches are healthy."
He recalls attending a church board meeting several years ago when he was 40 and the youngest person in the room. "If we want to reach, reclaim and retain anybody, that demographic has to be part of the conversation. I believe it is important for more young people who aren't my age to be part of the conversation."
Johns believes acknowledging, appreciating and taking advantage of the differences between youth and older generations will lead to a healthier, growing and attractive church.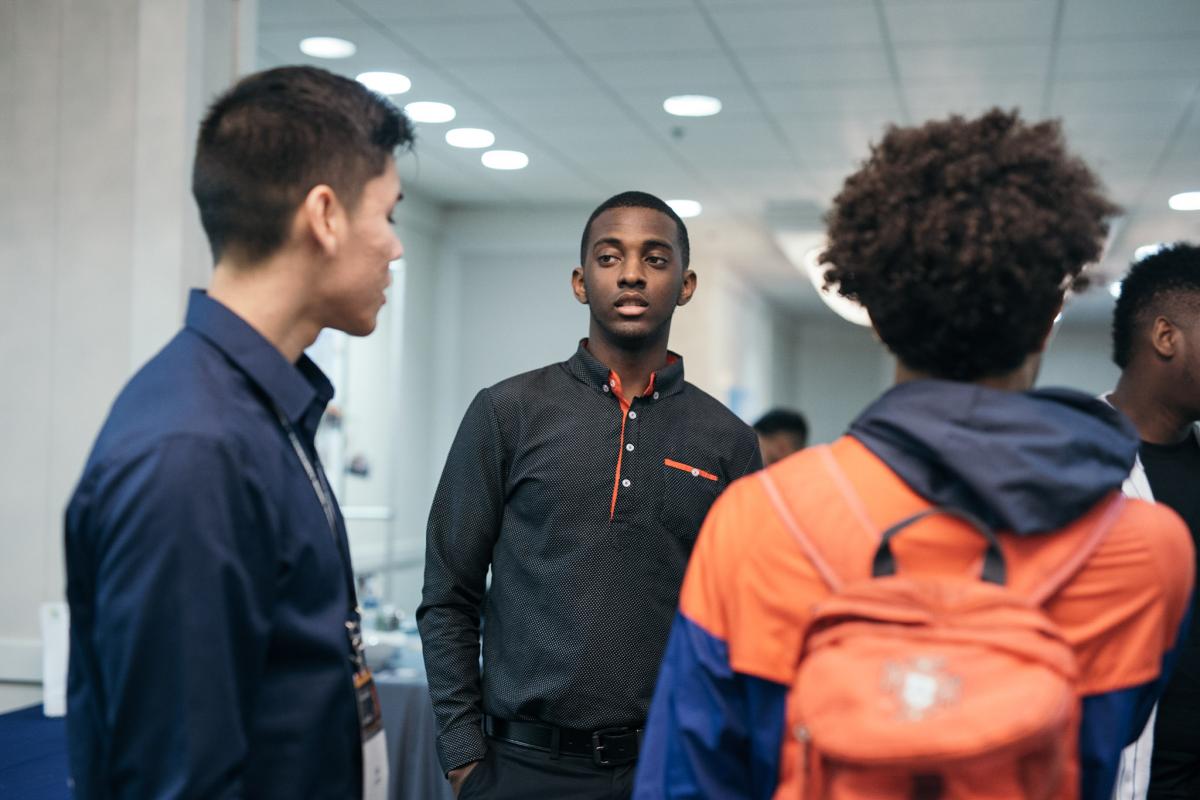 One of the ways that young adults can really strengthen the church is with their social media and technology skills, says David Nazaire (pictured left), a young adult member of the New Jersey Conference's Hackettstown church.
"The church has a tendency to be late on trends. We have youth who have access to hundreds and thousands of people in their pockets, and social media platforms that can be used correctly to grow the church's reach," he says. "I really want leaders to think and consider the importance of social media and the power youth have. There is so much more than live-streaming the Sabbath service or special events on the church website or relying on TV and radio to push the Three Angels' Messages. … If we do not pay attention and change with it, we will also fall behind. The youth, and adults too, hold the keys in their pockets."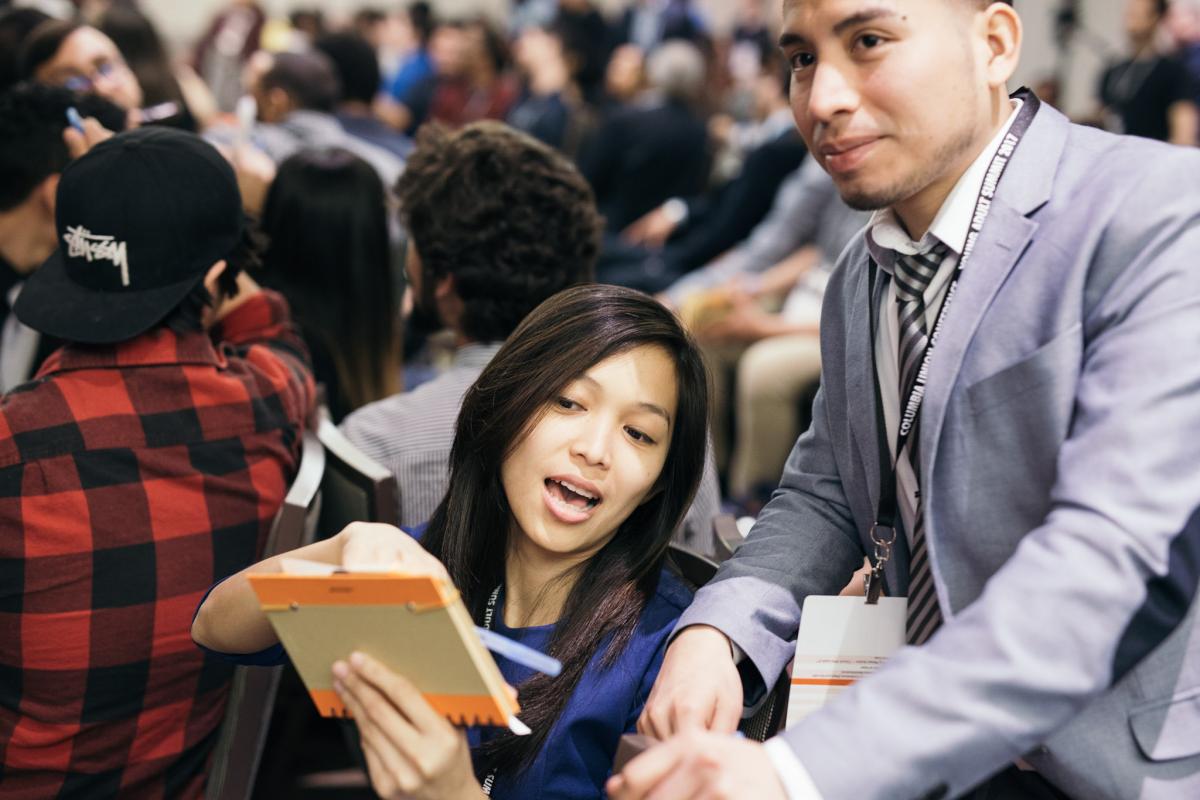 Young adults also need to learn how things work in the church. Rianna Herbolingo (pictured right), a young adult member at New Jersey Conference's Jersey City Filipino church, recalls when she, as a new member, independently planned a mission trip to the Philippines. She was excited to minister, but was surprised when the local church didn't welcome her group's help. "We were discouraged. We were so driven to work for God," she says. She later realized that by working within the church structure and logistics, the local church wouldn't have had to guess about their intentions, and together, they could accomplish more.
In his summit breakout session, Miranda shared that the church structure is there to protect the body of Christ from ministries that are untested. "At the same time, I see that the mission doesn't stop because the church says no. The church still has to learn a few things about flexibility. We must understand that culture is not more important than the gospel."
Empowering Young Adults Now
Columbia Union Conference leaders organized the Rise Up Summit to inspire and empower young adults to serve. Young adult members of the union's executive committee birthed the idea and planned the event, hoping it would be a springboard to furthering young adult involvement.
The meetings "taught us to get out of our comfort zones," says Rob Collado, a member of New Jersey Conference's Paterson Temple, who attended a workshop on ministry within the organizational structure. "We need to be the catalysts of change we want to see in our communities," he adds.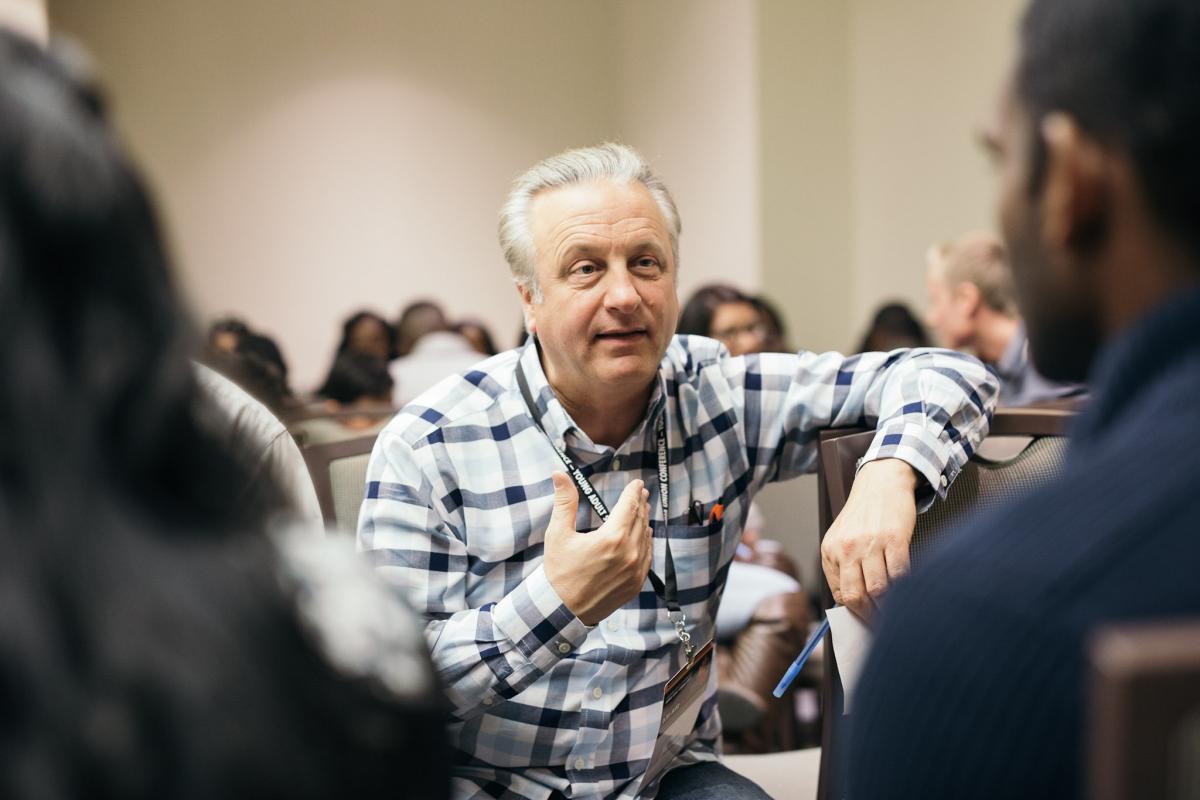 Frank Bondurant (pictured left), the union's vice president for Ministries Development, and one of the event organizers, says, "Sometimes young adults get this feeling that the church expects them to wait, that they aren't ready. The message we're sending loud and clear to young adults at this summit is, this is your church. We want you to live missionary lives and be leaders in your church today and now."